Professional quality RC flight simulator for radio controlled planes and helicopters
Learn to fly without fear with ClearView. Rain or wind outside, start flying right now! Save money and time by not crashing your real models
Features:

Works on Windows 11,10,8 and 7
50 heli models, 50 plane models, 17 flying fields
full collision support
3d physics
Refined flight model with autorotation
True high alpha angles simulation
Water support added.
Advanced setup for editing all flight parameters

Free flight time
Number of remote controller helicopters and planes for you to try
Recorded demonstration flights inside the simulator
At any time, you will be able to fully remove the program from your computer by using Windows Control Pannel.

ClearView RC Simulator Personal License includes lifetime upgrades and free support.
After the purchase, you will receive activation instructions via e-mail.
---
ClearView is for Windows. For mobile phones and tablets get ours Absolute RC Sim:
| | |
| --- | --- |
| | Absolute RC Plane Sim (Free) |
| | Absolute RC Heli Sim (Free) |
Links and News: Water support added.

Auto Pilot for Helicopters and Planes, including pre-defined training modes.

Read ClearView customers testimonials here.

See YouTube ClearView review here.

RC car simulation added. See video of the cars in action here.

See how ClearView compares to other simulators here.
---
ClearView just got better! ClearView delivers even faster frame rates, crystal clear graphics, stunning full screen mode and faster loading times. ClearView provides best in class hi-res sceneries with full collision detection. Dynamic camera mode. Zoom modes. Close up camera. Auto Pilot. Magic Time(tm) time slowdown for better learning. Record, replay and share your flights.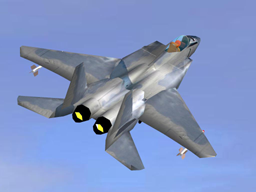 Panorama scenery import. DirectX FMS models import. Complete set of servos to try on your models. Rate and heading hold gyro simulation. Extensive servo selection. Experiment how different components affect the model flight.

Read the complete ClearView Flight Manual or download as pdf (thanks, Gary Gunnerson for the pdf conversion!)

Our models: We provide wide range of simulated RC models that cover almost all aspects of the hobby. The model selection and settings can benefit everyone, from pure beginners to seasoned experts.
Create 3d replicas of your own RC models and fly them in ClearView - it is as challenging and rewarding as building a new RC model from scratch!